Accuphase E480
Accuphase E-480 Integrated Amplifier
The new E-480 is a new-generation integrated amplifier that comes close to the performance of separate Pre/Power system. It has a whole new front panel design including the button array inside the sub-panel. Needle power meter with indication range to -50dB is able to move even at the small volume level less than – 60dB. The Sampling Frequency Display has expanded to "MHz" to support the DAC-50. The E-480 takes the mono block construction. With the symmetrical arrangement of L / R power amplifier blocks, strong power supply with a massive high-efficiency toroidal transformer and two large 40000μF specially- made filtering capacitors are installed at the centre of unit.
The rated output power of E-480 is 180W into 8Ω load, 260W into 4Ω load. The actual maximum output power achieves 290W into 4Ω load. The AAVA (Accuphase Analog Vari-gain Amplifier) is a volume control principle that eliminates all variable resistors from the signal path. This is Accuphase unique technology. The AAVA module in E-480 achieves low noise by the fourth paralleled largest unit and the paralleled second largest unit in "V to I" converters. This improvement helps to make the V-I converter amp's output current double, and it results in reducing the value of the feedback resistors and the noise coming from them.
Power amplifier sections contain same circuit configuration as Class-A stereo power amp. A-75. The output impedance is decreased by 3 parallel push- pull final stage arrangement of MOS-FETs. The E-480 mounts the new power MOS-FET device which is heavy-duty and has the large absolute maximum ratings. **Absolute maximum ratings of power MOS-FET E-470's MOS-FET: 180V / 10A
E-480's MOS-FET: 200V / 12A
Advanced Features
Logic-control signal switching relays for shortest signal paths
Five line level and two balanced inputs
Line input and output connectors for a recorder
Individual phase setting for each input
Stereo signal can be switched to monophonic operation
Left/right balance control also realized with AAVA
Convenient attenuator is useful for example when operat- ing an analog record player
Loudness compensator enhances low end presence
Tone controls using summing active filters
Power amplification stage employs instrumentation amplifier principle for fully balanced signal transmission
Amplification circuitry features MCS+ topology and current feedback principle to assure excellent phase characteris- tics in high range
Protection circuitry using MOS-FET switches
Two sets of large speaker terminals also accept spade lugs
Preamplifier and power amplifier sections can be used separately
Preamplifier outputs also support bi-amping connection
Choice of line level and balanced connectors for preampli-fier output and power amplifier input
Dedicated headphone amplifier designed for optimum sound quality
Two option board installation slots
DAC input selector button for use when digital input board(DAC-50 or DAC-40) is installed
Numeric indication of digital signal sampling frequency (when DAC-50 or DAC-40 is installed)
High-sensitivity analog peak power meter
ACCUPHASE E-480: NEW INTEGRATED AMPLIFIER
Japan's Accuphase has announced the E-480, an integrated amplifier capable of delivering 180 watts per channel to eight ohms. The damping factor has been increased by twenty percent to 600 compared to predecessor E-470. In plain Dutch, this means that the E-480 has an iron grip on the connected loudspeaker, even if the loudspeaker struggles. The E-480 will be available from January 2019.
Accuphase E-480: powerful integrated amplifier, optionally expandable with modules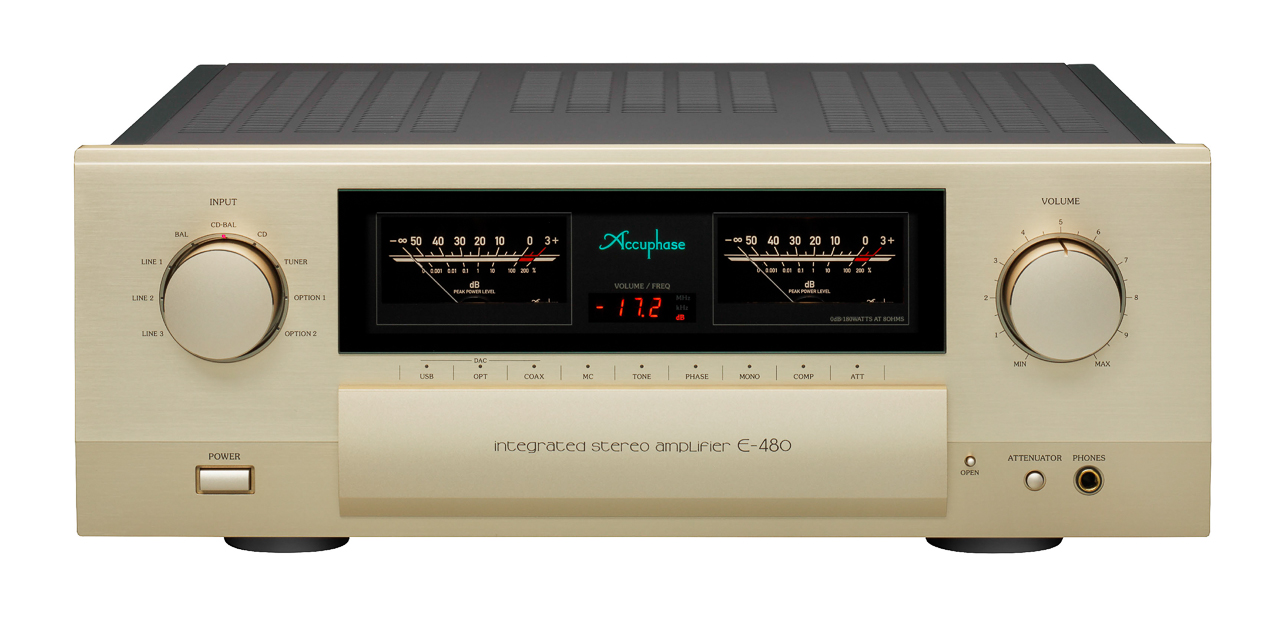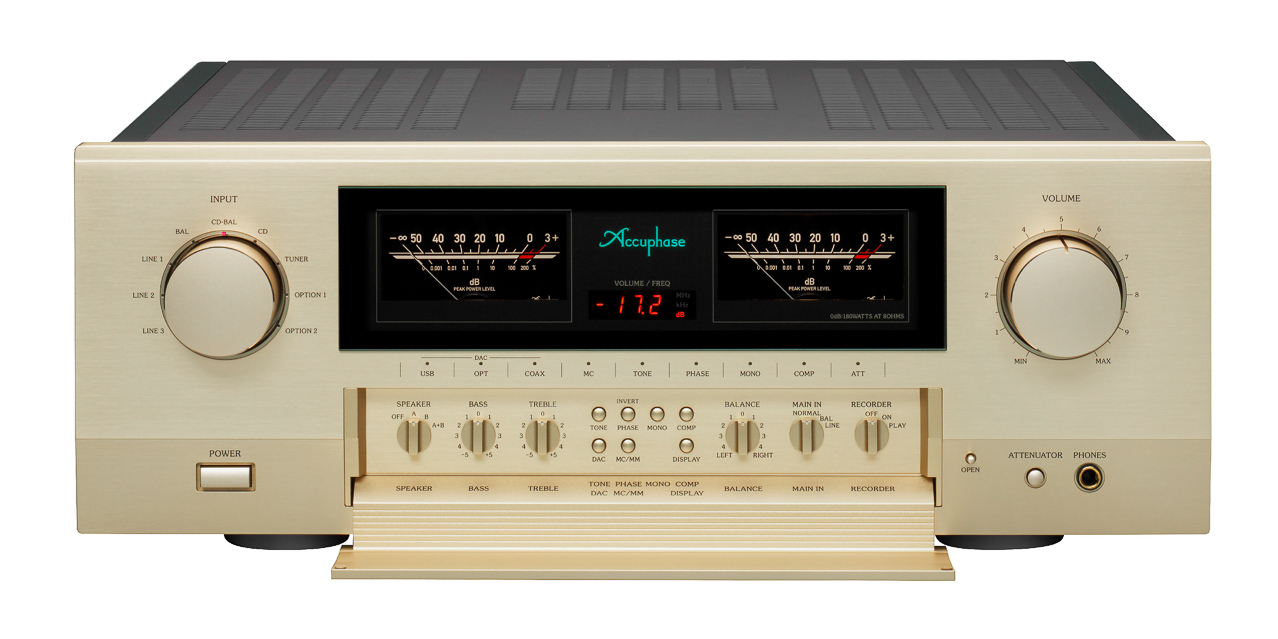 Japan-based Accuphase builds amps and sources and recently announced the launch of the E-480. The E-480 is an integrated amplifier and is the successor to the E-470. The appearance of both devices shows great similarities and the specifications do not differ much from each other. The new model does have some improvements under the hood. The increased damping factor of 600 at a load of eight ohms is the most striking improvement.
In principle, the E-480 is a fully analog class AB amplifier, but the buyer can have a plug-in card with a DA converter of the type DAC-50 installed. The DAC-50 features two AK4490EQ chips from Asahi Kasei on board and can handle signals up to 32-bit / 384 kHz and DSD up to 11.2896 MHz. The E-480 can also be expanded with a plug-in module of the type AD-50 to connect a turntable with an mm or mc element. Older types of plug-in cards can also be installed.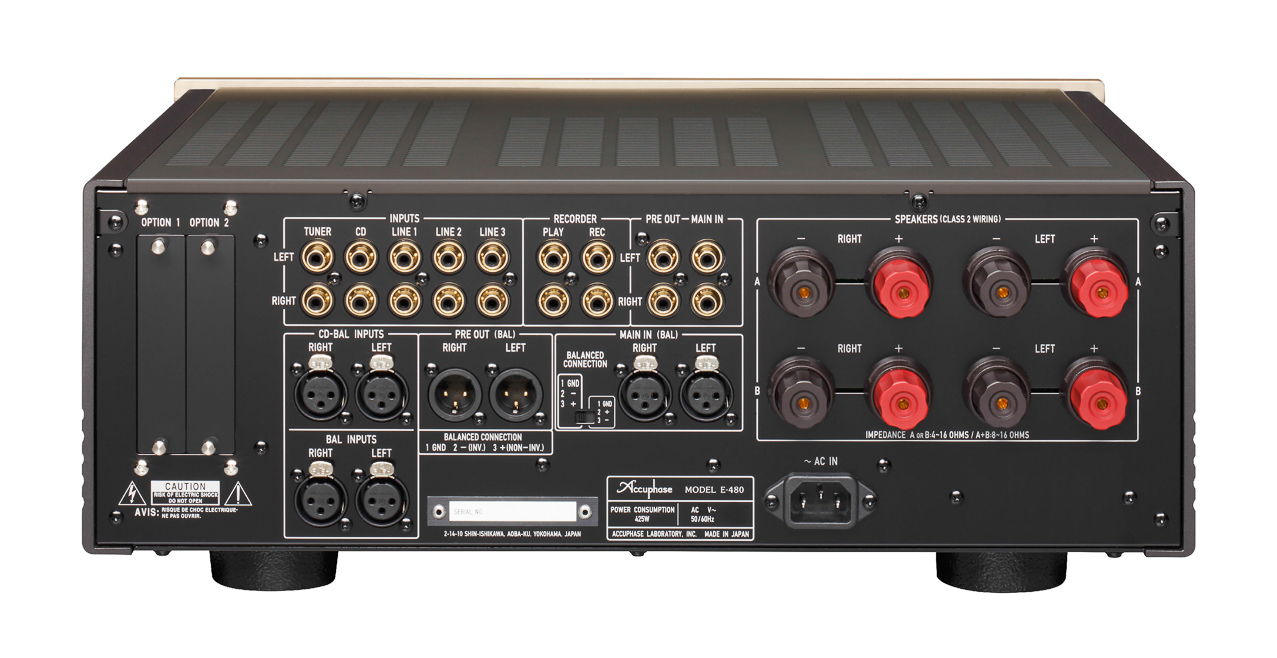 The user has six regular RCA line inputs and two XLR inputs. If you want to use a different power amplifier, you can use the cinch or XLR preamp output.
There is no shortage of power. The E-480 can supply 180 watts per channel at eight ohms and 260 watts at four ohms. The noise floor is –100 dB or lower, depending on the selected measuring method and input. Accuphase controls the volume in the E-480 without a potentiometer. Accuphase uses its AAVA control for this, which ensures that the frequency range, noise floor and impedance are the same across the entire range.
Accuphase E-480: price and delivery information
The E-480 will be available from January 2019 for a price of 8,500 euros.