FEATURES
The  Clearaudio Performance DC s a complete package designed to open up the high-end listening experience to those ambitious music lovers who are willing to handle with the basic features of tonearm and cartridge adjustment, and who simply seek the best in music reproduction.
An enhanced version of the Performance DC with wood chassis offers even greater resonance control.
A newly developed DC motor with high precision bearings and flat belt-drive, in conjunction with a platter of 40mm thick POM which rests on a Clearaudio ceramic magnetic bearing (CMB), provide optimal conditions for the correct sampling of the record groove.
The elegant and simple appearance of the Performance DC with its clear lines matches its excellent audio performance. For lovers of our moving magnet (MM) cartridges we offer both versions of the Performance DC (with/without wood chassis) as a package with the CLARIFY TONEARM and VIRTUOSO V2 cartridge. For those who prefer a moving coil (MC) cartridge, again both versions are offered as a package, featuring our SATISFY KARDAN ALUMINIUM tonearm and our outstanding TALISMAN V2 GOLD cartridge. The third and ultimate option, again offered in both versions, is the peerless combination of our award-winning TT5 tangential tonearm and essence mc cartridge.
Excellent tracking properties and hyper-accurate speed synchronisation ensure the ultimate listening pleasure, whatever your choice Performance DC package. Combine your own Performance DC.
SATISFY KARDAN TONEARM
Designed for use with a wide range of turntables and cartridges, the award-winning Satisfy Kardan incorporates a range of features normally associated with some of the very best tonearms.
A precise, magnetic antiskating adjustment with a gentle sensitiveness, without mechanic disturbance – for pure music.
Become a witness of revolutionary direct wiring, where the signal travels uninterrupted from the cartridge to the Phono-preamplifier.
Only a few amongst the best offer this feature – it's one of a kind.
CLEARAUDIO JUBILEE PANZERHOLZ MM CARTRIDGE
Clearaudio's technology uses ebony as a resonanceresistant body. Other ingredients of the recipe for success are the most effective reduction of moving mass, an optimized polishing technique for the stylus and highly effective cartridge damping.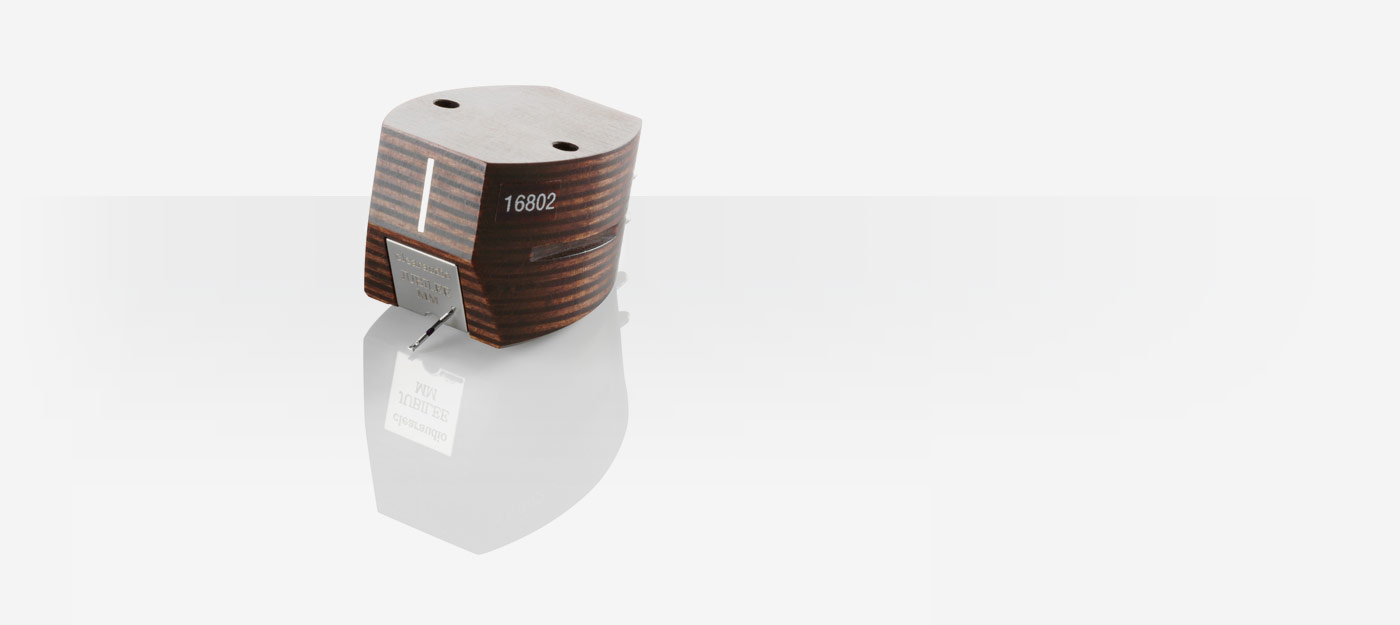 The new Clearaudio Jubilee MM phono cartridge is easy to like. Sonically, the warmth, fullness, and clarity of the Jubilee MM makes it the right choice for audiophiles who enjoy a wide range of musical styles and recordings. Introduced to celebrate Clearaudio's 40th Anniversary.
These are the only 2 Clearaudio cartridges that use Panzerholz or "bullet-proof wood", a high-tech laminate constructed of multiple layers of baltic birch wood compressed with advanced adhesives under 60 tons of pressure.  This special body material, used in Clearaudio's best turntables, lowers the noise floor for better dynamic contrasts, low end definition, and rich tonality.
The Jubillee MM, as with all Clearaudio moving magnet cartridges, uses a grading system for optimizing parts quality and matching. This provides superior trackability as well as better channel separation and balance for enhanced imaging. Its high output and 47k Ω loading makes it ideal for all phono stages.
PRODUCT SPECIFICATIONS
CONSTRUCTION DETAILS
Resonance-optimised body, highly compressed wood chassis in sandwich construction embedded between two aluminium plates.
SPEED CHANGE
Comfortable speed change, 33 ⅓ rpm, 45 rpm, 78 rpm (optional)
DRIVE UNIT
Decoupled and resonance damped DC motor, flat belt-drive and plug-in power supply unit designed for worldwide use with all networks and power frequencies.
BEARING
Cut and polished ceramic shaft in a sintered bronze bushing, Clearaudio ceramic magnetic bearing (CMB)
PLATTER
Synthetic material, surface CNC-precision milled, Surface CNC-precision milled, 1.1 inches / 40mm thickness
SPEED ACCURACY (MEASURED)
0.05 %
POWER CONSUMPTION
Max. consumption: 3.3 Watt
Consumption in operation: 1.6 Watt
Standby mode: < 0.5 Watt
Off mode: 0.0 Watt
TOTAL WEIGHT
Approx. 11.0 kg
DIMENSIONS (W/D/H in inches)
Approx. 16.54 x 12.99 x 4.92 (without tonearm)
DIMENSIONS (W/D/H in mm)
Approx. 420 x 330 x 125 (without tonearm)